The Executive Board of the Hamden Historical Society regrets to report that Hamden's iconic Mt. Carmel landmark, "The Door Tree," has been destroyed by vandals.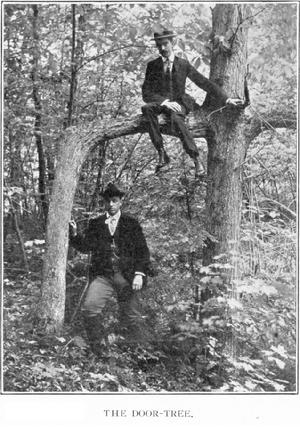 ca. 1898
Hamden's Legendary "Door Tree" Felled by Vandals
It was first photographed at the turn of the last century. During the next twelve decades, the Door Tree fascinated and enchanted countless Hamdenites and many others. It was an oddity of nature: two trees, one growing into another, forming a doorway-like arch.
Longtime Hamden Historian Rachel Hartley devoted a page to its photo in The History of Hamden Connecticut - 1796-1936 (1943). It was featured several times in Ripley's "Believe it or Not." It was a Hamden treasure.
Sometime in the very recent past, vandals took a chain saw, brought it down, then cut it up.
CLICK HERE
to check out the Regional Water Authority's
Facebook posting that has had nearly 90K hits since this story broke.
July 18 - A Hamden Historical Society supporter contacted a society board member Wednesday afternoon expressing concern that he was unable to locate the tree. The board member then visited the site and confirmed that the 150-year old tree had been knocked down and cut into pieces with a chainsaw. It is not known exactly when the damage occurred.
"The Door Tree," a natural phenomenon consisting of one tree growing into another, forming a doorway-like arch, had been recognized by locals as a prominent Mount Carmel landmark ever since it was first photographed around 1898.
For many years it had been feared the tree would be the target of vandalism due to its remote location, in a small valley about fifty feet off New Road near Clark's Pond.
The tree, identified by the RWA as a white oak, was featured several times in Ripley's "Believe it or Not," and in Rachel Hartley's The History of Hamden Connecticut -1776-1936. Now it is gone!
| | |
| --- | --- |
| On Tuesday, April 23, 2019, Theresa Doherty took this last known photo of the Door Tree. While Theresa and her dad, retired HFD Battalion Chief Thomas Doherty, were returning home after a nursery purchase of some bushes, her dad told her about the Door Tree and she asked to see it. | July 18, 2019 - just minutes after the "Door Tree" was found destroyed. |
Mayor Curl Leng expressed shock and anger when notified earlier today of the tree's destruction. The Hamden Police Department and officials from the Regional Water Authority, which owns the land where the tree stood, also have been notified.
Mr. Ted Norris, RWA Vice President in charge of Asset Management, has assured the historical society that RWA police, who work hand in hand with Hamden police, will investigate the destruction of the landmark and will aggressively seek to identify and prosecute those responsible.
A private $1,000 reward has been matched by the Regional Water Authority, making a total reward of $2,000 for information leading to the arrest and conviction of those responsible for the destruction of "The Door Tree."
_______________________________________________________________________________________________________
The New Haven Register, Thursday, July 18, 2019
_______________________________________________________________________________________________________
Connecticut television stations provided extensive coverage.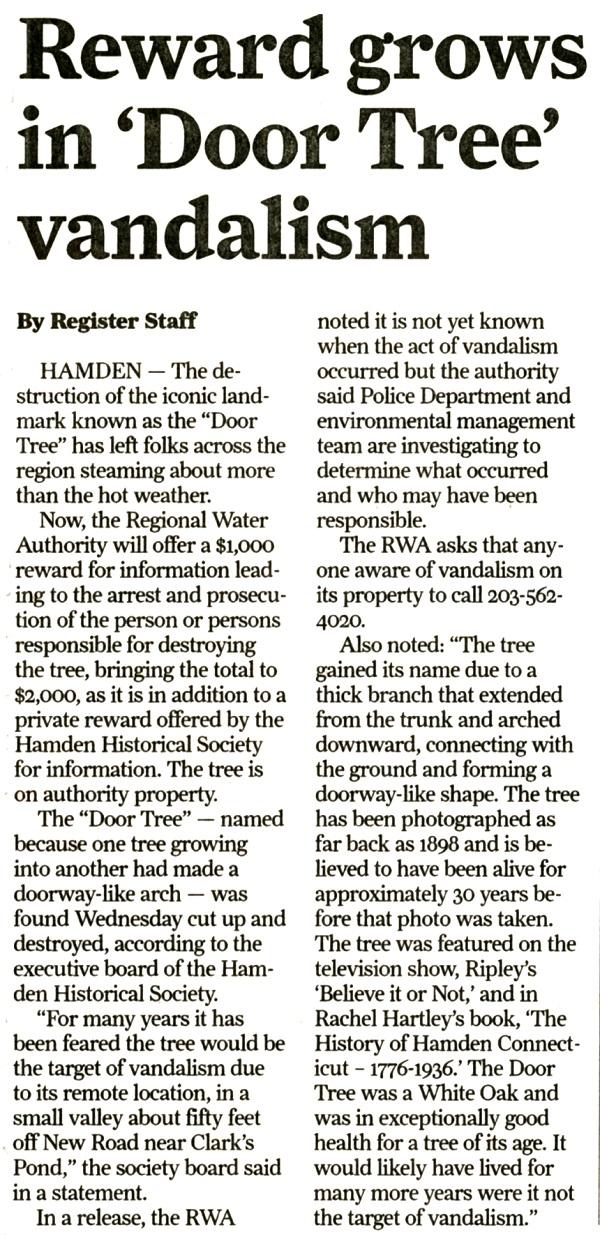 July 21, 2019, The New Haven Register
The act of vandalism that brought down Hamden's "Door-Tree" made news worldwide. The entry from The Washington Post (below) is but one example of the extensive news coverage this terrible act received. Similar coverage was provided by The New York Times, The Chicago Tribune, and about fifty other major newspapers worldwide, including Taiwan's The China Post (q.v.).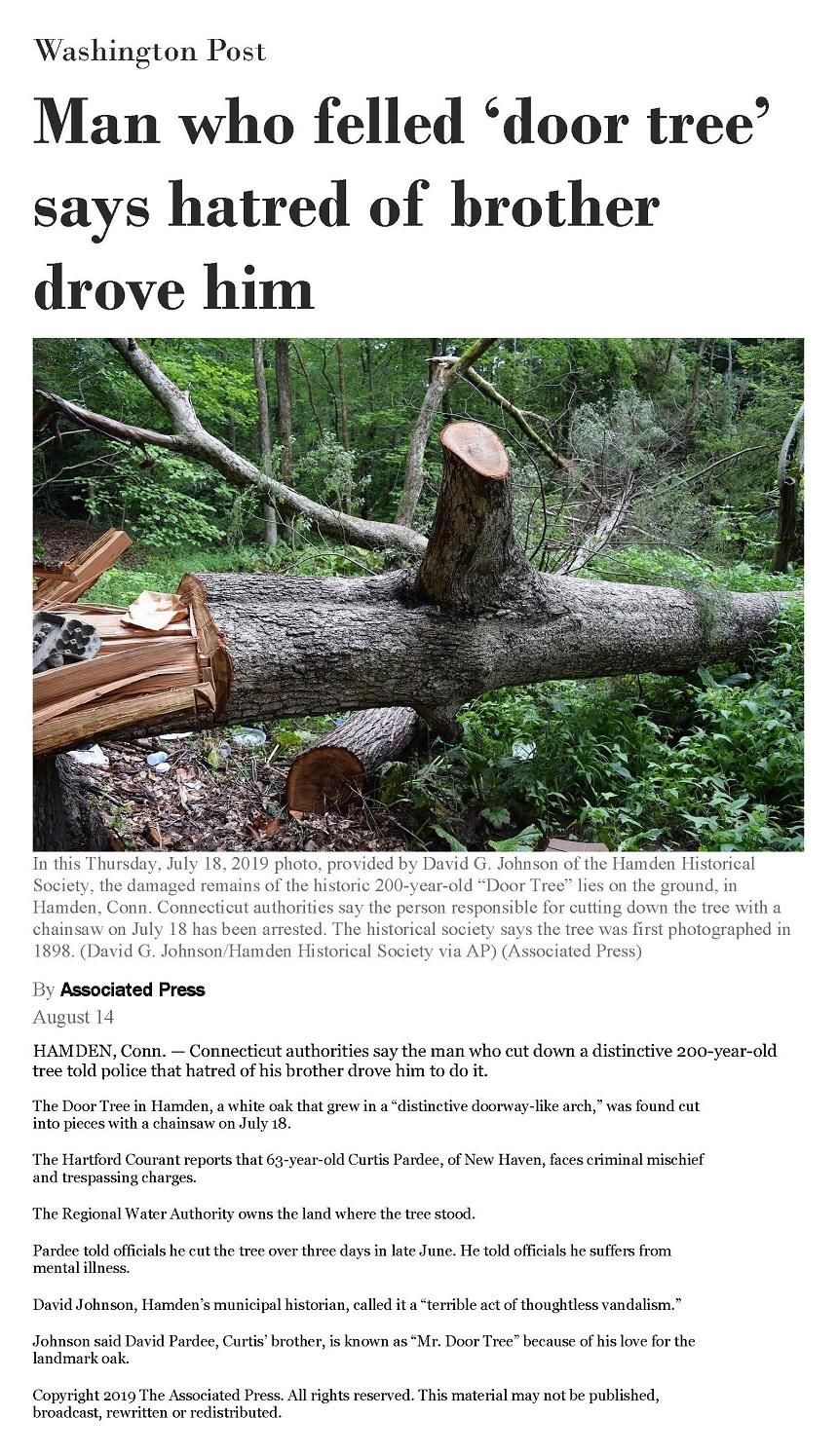 Screen shot of the Washington Post website - August 14, 2019
_______________________________________________________________________________________________________
DOOR-TREE UPDATE
August 23 - After a thorough investigation involving debris left as the tree site, Regional Water Company police identified and arrested Curtis Pardee of New Haven on third-degree criminal mischief and third-degree trespassing in connection to the destruction of Hamden's "Door-Tree." The iconic landmark had stood for upwards of 175 years near Clark's Pond, on property now owned by the Regional Water Authority.
Pardee, who has admitted to the crime, acted alone. He was arraigned in Meriden on August 15th and will appear in court again on September 17th. He told authorities that he used an electric chain saw on June 28th to saw off the archway, then returned two days later to down the rest of the white oak.
RWA Officer Celeste Robitaille started investigating the crime on the morning on July 18th, less than two hours after it was reported to RWA and Hamden police. Robitaille discovered discarded letters to Pardee at the scene and a container of store-brand chain oil. The chain oil was traced to a local Lowe's store, where a check of credit card receipts and store cameras led to identifying Pardee.
The RWA has generously offer the tree remnants to the Hamden Historical Society so that wood from the 200-year old white oak might be used to make mementos to memorialize it. Plans with a local craftsman to make pens from some of the wood are in the works. There are other possibilities, including a two-dimensional display of what had been the archway. We will keep our web visitors posted.
Posted 8/23/2019
_______________________________________________________________________________________________________
_______________________________________________________________________________________________________
CHECK OUT our YouTube video below that encapsulates
the whole story of "The Door-Tree" in just over six minutes.
Official Website of the Hamden Historical Society
Unless otherwise cited or in the Public Domain, all material on this website, including photos, essays, articles and commentary published herein, are

©

Copyright 2016-2022 by the Hamden Historical Society, and may not be copied or republished in whole or in part without prior written

permission of the
Hamden Historical Society